'Tis the Season for Holiday Pet Safety Reminders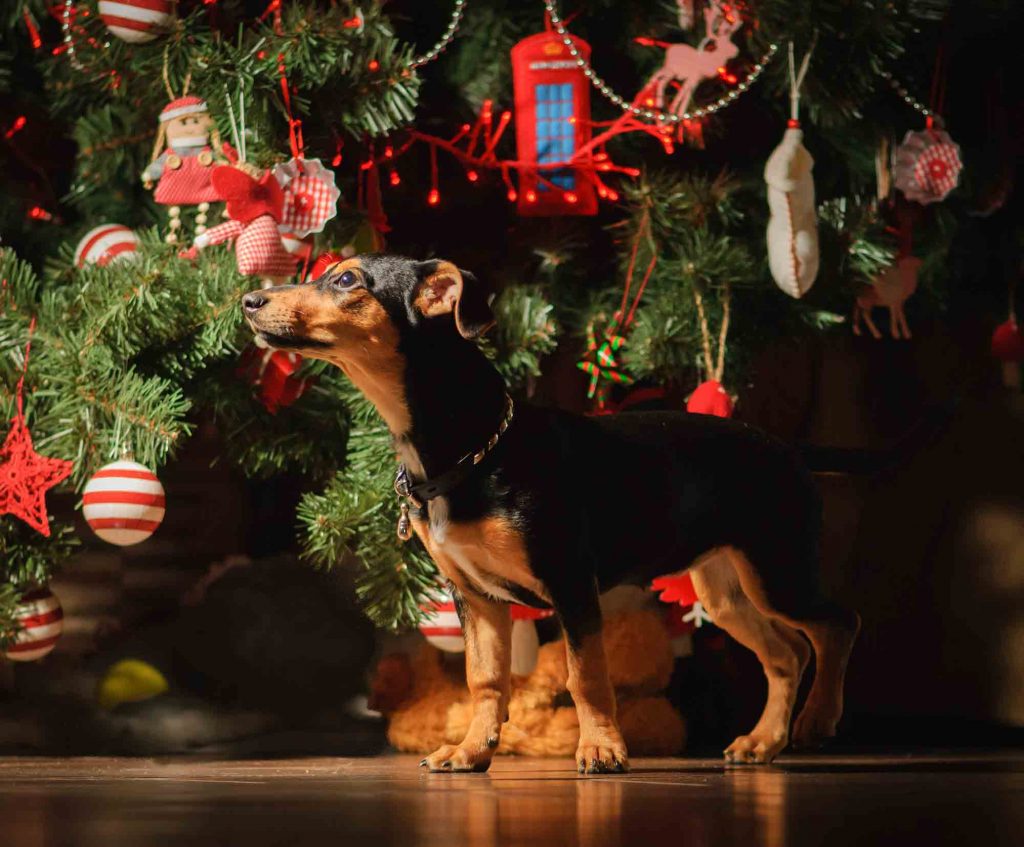 The holiday season has finally arrived, and the excitement of shopping, baking, decorating, and planning is upon us. Pets are not likely to share in our revelry, as many of the seasonal delights we love can cause undue stress for them, or pose significant danger to their health.
Bone up on our holiday pet safety tips to make this the best season ever for your family (both two-legged and four)!
Decorate with Holiday Pet Safety in Mind
Decorations make our homes sparkle during the holiday season, but these seasonal wonders can put our pets at risk of injury. Take a discerning look at your decorations and watch out for:
Electrical cords – Cords can cause entanglement, strangulation, or electric shock if chewed on.
Poisonous plants – Mistletoe, holly, poinsettia, and lilies are among the worst offenders.
Tinsel, ribbon, and wrapping paper – These items can pose a choking hazard or risk of intestinal blockage if swallowed.
Lit candles – Pets are naturally drawn to a flickering flame, but the results can be disastrous!
Trees – Certain pets (cats, we're looking at you) can't resist climbing and exploring a beautifully decorated tree. For safety, consider anchoring your tree and placing ornaments on the highest branches.
Toxic Treats
The abundance of food during the holiday season makes it easier than ever for pets to be given, or sneak, a bite here and there. Many holiday foods (such as chocolate, alcohol, grapes/raisins, and macadamia nuts) are toxic to pets, and fatty table scraps may cause a dangerous inflammatory condition known as pancreatitis.
Play it safe and make sure your pet doesn't have access to any food, leftovers, or garbage.
Party Animals
We may delight in a houseful of family and friends, but our pets probably won't enjoy this noisy influx of guests. A little planning can help your pet keep their cool this holiday season.
Keep your pet's daily routine as normal as possible during the holidays.
Make sure your pet is getting plenty of exercise each day to alleviate stress.
On a party night, or whenever you expect fireworks or other loud noises (such as New Year's Eve), set your pet up in a quiet, secure room where they can relax.
Pheromone sprays, such as Feliway or Adaptil, can help to ease tension.
Please let your team at Arlington Animal Hospital know if you have any further questions about holiday pet safety. We welcome your call!
Office Hours
Monday

8 a.m. – 8 p.m.

Tuesday

8 a.m. – 8 p.m.

Wednesday

8 a.m. – 6 p.m.

Thursday

8 a.m. – 6 p.m.

Friday

8 a.m. – 6 p.m.

Saturday

8 a.m. – 2 p.m.

Sunday

CLOSED

Doctors' hours are by appointment only.